John C. Robinson Memorial, 3106 Union Road, Gastonia, N.C. 28056
Welcome
Founded in 1951, Robinson Memorial Presbyterian Church maintains its small church atmosphere, but continues to grow in many ways. We are conveniently located just north of Robinson Elementary School on Union Road in south Gastonia. Please join us for worship on Sunday or for any of the events listed on our calendar.
---
Get set for New Beginnings

It's time to kickoff our New beginnings program! We will start with a covered dish lunch on Sunday, Sept. 14th following the worship service. After lunch we will have a special (and different) communion service then go into session one of New Beginnings. We want to have as many people as possible attend this first meeting so come out and join us for food, fun and fellowship!
---
Youth GAP event set for Sept. 7
Youth GAP is for middle and high school age kids from GAP churches to meet for fellowship, fun, and growth with God! On Sept. 7, Southminster Church will host a "Kick off Party" 4-7 p.m. This is a free event with BBQ, door prizes, water fun, and the Panther's game! See Amy Palmer for more details.
---
BBQ to raise money for Habitat House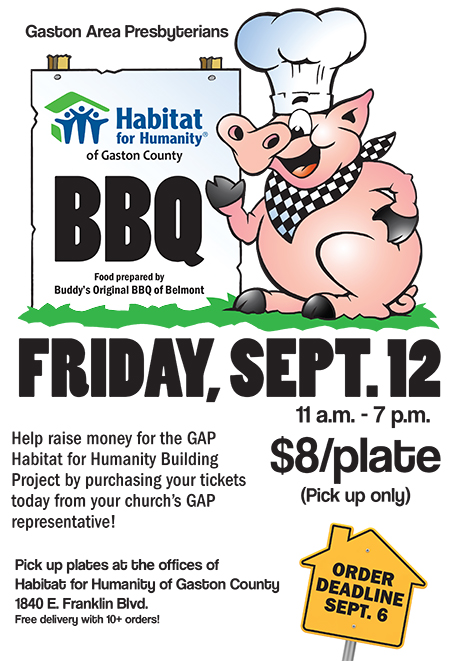 ---
See photos from Webb Street luncheon
See some of the action from the annual luncheon at Robinson for the teachers and staff of Webb Street School. Click here.
---
Hymn of the Month returns
One other thing that took a vacation during July was our Hymn of the Month. The feature returns in August with They'll Know We Are Christians. In our Hymnal that's #429. The choir will help us practice it the first time during the Aug. 3 service and then we'll be singing this each Sunday throughout the month.
---
Audio recordings of Bible study online
We want to make sure you attend in person for our Wednesday Night Bible study, but in case you can't make it, at least you can hear what was said. We have two weeks of Bible study sessions now available to listen to online. Click here to get started.
---